Press The Juke Box to Hear Oldies 97.3 FM Online, All The Time
Jimmie Keyes – Engineering Staff
Born in the Dayton, Ohio area in 1965 (Yes, he's a youngster); by 1975 Jimmie Keyes knew that the radio arts were going to impact his life. Bitten by the "radio bug" on a fishing trip with his Grandfather, Jimmie fell in love with radio at the young age of 10. His Grandfather brought along a couple walkie-talkie sets as entertainment. Playing with the little transceivers occupied a great deal of the weekend's time. Jimmie got to take the little radios home. Thus, after giving one of the little radios to a friend in the neighborhood & many nights of fun communications between the friends; Jimmie soon became interested in radio as not only a pastime, but as an educational experience, as well. Soon after, the acquisition of a radio amateur license was at hand. Amateur radio (Ham Radio) then became a part of daily life for Jimmie Keys. The "radio arts" have been quite the adventure.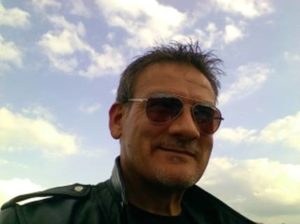 After twenty years in the electrical trades, the decision was made to pursue radio in the professional arena. Missing the days of "Mom & Pops radio"- WSWO was the clearest choice for Jimmie to immerse his desires in Radio.
Playing musical instruments since the age of four years, beginning with accordion – yes, his Mother required all the children learn music – Jimmie is grateful beyond words that his Mother was of such persuasion in the arts. To this day, music performance has also played a major role with Jimmie's life. He is said to appreciate all genre' of music with his favorites being Swing Jazz and Rock – a – billy.
Working as a volunteer with WSWO is a high point with Mr. Keyes. He loves the educational aspects of the database of music offered with WSWO, working directly or indirectly with the public on a local level or higher, and is really digging the people at WSWO and the amazing way it "all comes together" !