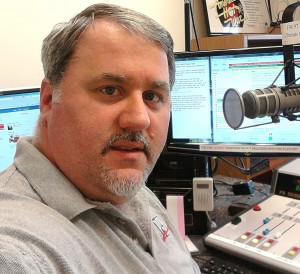 My family and I moved from northern Kentucky to the Dayton area in 1975, settling in New Carlisle. After my three olders sisters grew up and moved out on their own we moved to North Hampton in 1983; I graduated from Northwestern High School in 1985.
I joined WSWO in the summer of 2007 as just an occasional fill-in for other DJ's, but I became a regular when I took over the Saturday night slot in 2012. Since joining the station, I've done a lot of things that I've never had the chance to do elsewhere, chief of which is the founding of The Miami Valley Community Radio Theater, through which I produced and directed our "War Of The Worlds" remake in 2009, and our annual holiday presentation of "A Christmas Carol" in 2011.. I currently have more productions in the planning stages.
Q&A
Where were you born?:  Clark AB in the Philippines (my dad was in the Air Force).  Bob Hope was doing a show right outside the hospital at the time.  Everyone in my family got to see the show except me and my mom, and she hasn't forgiven me for it to this day!
Who were your earliest influences?: At home it was my three older sisters; I got my love of music from them.   Outside of the house it was people like Paul Dixon, Bill Cullen and various DJs in Dayton and Cincinnati.
What was the first thing you ever wanted to be?:  A game show host.  (Note above answer; I still want to be one!)
How might someone have described you in high school?: That's easy.  I was a nerd.  Even my wife (and ex-classmate) thought I was a nerd back in the day.
What was your first radio job?: In the fall of 1987 I started doing weekends at both WBLY and WAZU in Springfield; I put in as much as 24 hours on weekends alone.
What do you like about working on the radio?:  Particularly at WSWO, the creative freedom.
What do you DIS-like about working on the radio?:  Annoying callers.  And no, they don't know who they are.
What do you do when you're not on the radio?: I drive a truck for Ryder.  I've been a truck driver for over 16 years.  When I'm not working I try to spend as much time as I can with my wife and daughter.
What was your biggest challenge working in radio?:  In 1989, I was fill-in news anchor one afternoon at WBLY, and all hell broke loose at the Upper Valley Mall when a gas line ruptured and they had to evacuate and eventually close the mall down for the night.
FAVORITES
Favorite books:  My bible, 'Quizmaster' by Adam Nedeff, 'American On Purpose' by Craig Ferguson
Favorite TV shows:  'Mythbusters', 'M*A*S*H', 'Sherlock', 'Quincy', 'The Late Late Show with Craig Ferguson', 'The Big Bang Theory', and lots of old game shows.
Favorite restaurants:  Five Guys, O'Charley's, LaRosa's Pizza
Favorite food:  Depends on what mood I'm in
Favorite drink:  Iced tea or Coca-Cola
Favorite movies:  The Dark Knight, The Blues Brothers, The Avengers,
Favorite music:  Pretty much anything up through the 90s
Favorite travel destination:  Cincinnati, but I don't get down there often enough.
Visit and like Mikes Facebook page:
https://www.facebook.com/everythingseventies