---
---
Mike Reisz shows
---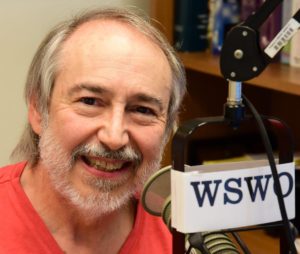 Join Mike Reisz- Wednesdays from 4-7 pm for "Mike's Connections". The whole world links together in Mike's strange universe. Oddball facts, strange celebrations, death-defying convoluted logic, oh, and all those oh-so-great tunes from the 50s, 60s and 70s…
Radio bio: I started listening to radio as an innocent child (driving my poor mother nuts with requests to call the local AM station to play "Papa-Oom-Mow-Mow", "Surfin' Bird" and the latest Alvin and the Chipmonk hit), continued listening as a less-than-innocent teen (calling stations for the latest Zappa insanity) and through a combination of bad planning and poor study habits ended up working in the newsroom at WKSU- Kent. But I was interested in music so I quickly wormed my way into the music staff and acquired quite a music education through being asked (technically locked and chained in the studio) to announce for classical music, Blues, jazz, folk and underground music! (In those days underground meant Pink Floyd, Yes, Genesis, Gentle Giant, Frank Zappa, et al and was generally not heard on commercial Top-40 stations.)
My lovely young wife and I made a pact to move to where the first one of us found full-time employment. She found beat me to the punch (as usual) and that's how we ended up in some swank apartment in Fairborn. (Actually it was "Swank Apartments". Not real swank but it did have a pool!) … She started a teaching career and I started in 1976 doing weekends and fill-ins at WTUE.
Getting nowhere faster than even my wife expected, I returned to the halls of academia to complete a teaching degree. As luck would have I was recruited by Dayton Public Schools to teach in a new Radio/TV magnet program. I then proceeded to spend the next thirty years working with young innocent minds to learn the ins-and-outs of the broadcast industry. I was also extremely fortunate to be left unfettered (mostly) to program the district's radio station, WDPS-FM, as I saw fit.
During the time I was in charge of WDPS I plied my talents at several local stations including twenty-plus years at WYSO playing British Isles and Celtic folk and folk-rock music ("Lunch In The Pub" anyone?). Meanwhile, back at WDPS I produced shows in a number of different music genres- ending up with a six year run of "Blues All Over The Place" (which is how I was tapped to be a judge- along with Gene Charles- the last several years for the Dayton Blues Society's "Road To Memphis" Blues challenge.
I'm happily settling into being part of this wondrous aggregation of music lovers known as "Oldies-93"!
Influences: Marx Bros., Firesign Theatre, Monty Python, the Goon Show, the 3 Stooges, mom & dad, Bill Flint (my "Lunch In The Pub" cohost), oh, and The Beatles and John Steinbeck (I'm a big book-nerd, too) and, of course, my better-half Christine!
---